Find out why EventsX stands on top
Create immersive virtual, hybrid, and in-person event experiences for your audience, no matter where they are.
Pearl Accounting Freelancer Accounting Event
London-based Pearl Accountants wanted its UK freelancers event to be accessible to all, and for it to run without a glitch. Naturally, they chose EventsX.
"The EventsX platform was a breeze to work with. We configured our event and all sessions and talks within only a few hours. It ran perfectly and without a glitch. We'll use EventsX for all future events, without a doubt."
More info
Start My Business Event
If there's one team that knows good business and how to get one off the ground no matter what, it's Start My Business. Of course, they chose a business that knows how to get the job done for their online event—EventsX.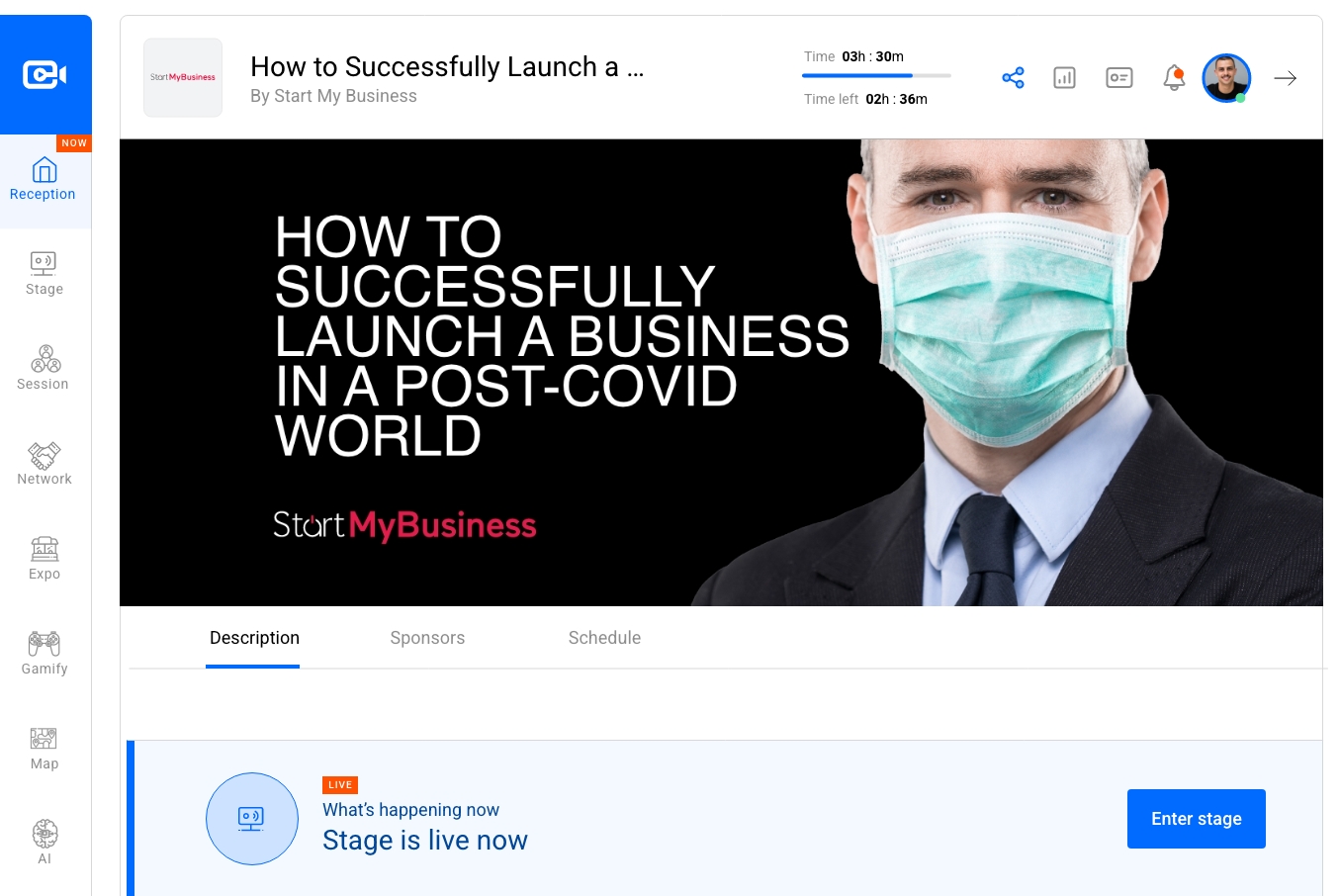 "We respect innovative businesses that keep motoring in the face of challenges. We were drawn to EventsX not only because the system was clearly superior to all its competitors, but because the team behind it had the right attitude. Our event ran flawlessly, and the EventsX team was available throughout to assist if needed. We look forward to working together again with them on many, many events in the future."
More info
Dash London Fashion
Dash London is known for its bold statements and its sustainable attitude in business. They wanted a company with the same values to host their online event. EventsX was the natural choice.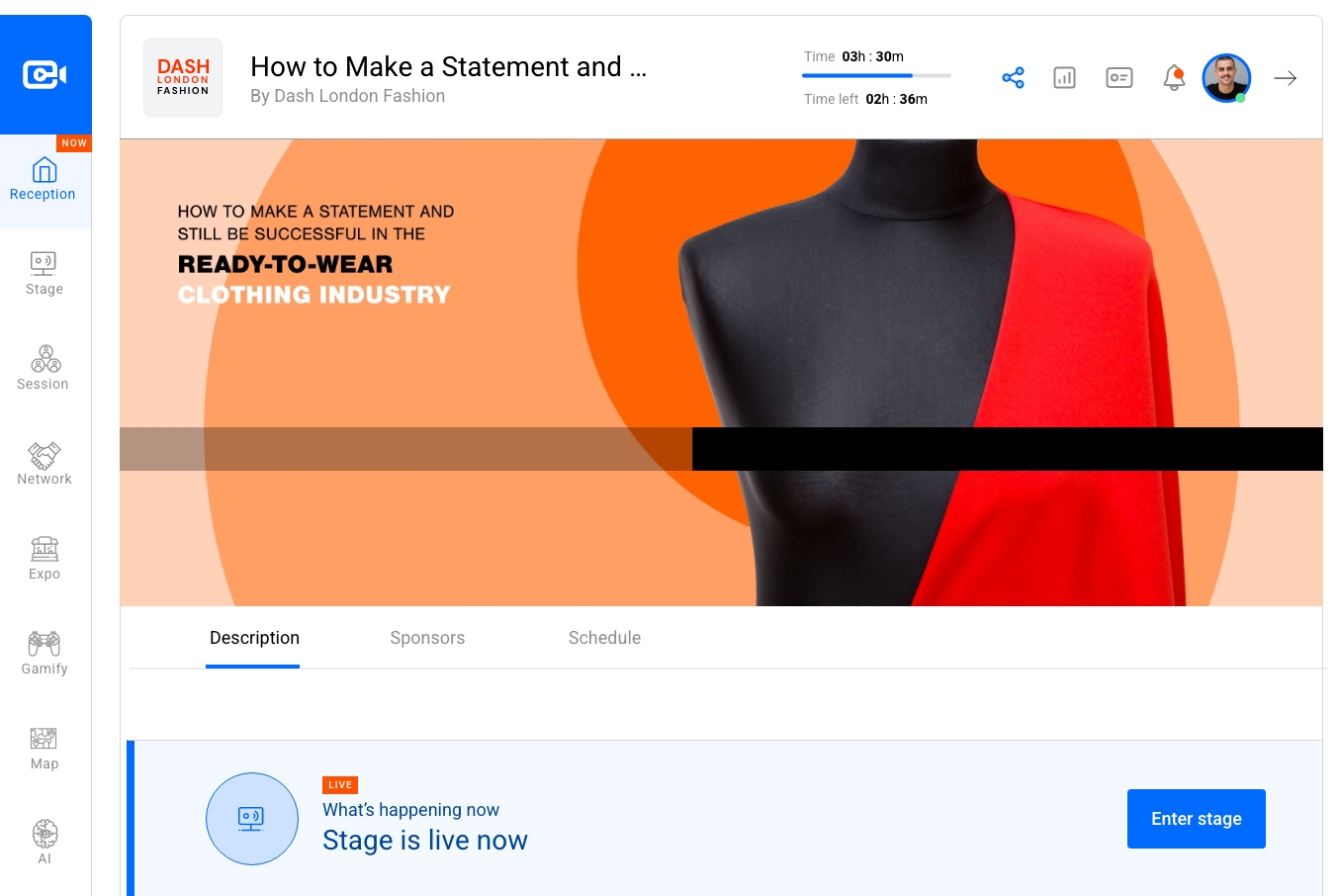 "We have strong values in our business. Our ready-to-wear clothing might seem subdued but it makes a powerful statement. The greatest power lies in numbers and the sheer number of people buying our products means we are raising awareness for important issues with our environmental lines. EventsX's views on sustainability and the environment matched ours. In addition to that, their platform is fantastic and we are extremely satisfied with choosing it."
More info
"Love the EventsX platform I Love the EventsX platform. I like the option to have multiple live break out session to choose from. Chat capability was great and had zero issues. I had smooth video in every room and didn't experience any glitches. Just a great experience overall. Artificial intelligence features in the platform really cool. Still EventsX in the BETA stage. When the full version available EventsX is going to change the online events industry for sure "
"EventsX is next generation events platform. I have use the EventsX platform few times. I have had limited usage both as a speaker and participant at events powered over the EventsX platform. Once you get to grips with the EventsX technology it works very well although it was a bit daunting at first! It brought people together in well-structured event each time, with something for everyone from networking, to exhibit, main stage and Artificial intelligence features more. Artificial intelligence features in the EventsX platform I did not see any other events platform. It next level. The best part is the energy that people feel after an event and the positive feeling they come away with. That is what overrides any initial start-up learnings! I love the EventsX platform and I will use it again and again for our events. Highly recommended. "
"EventsX User Friendly This platform is User-friendly for both the Backend & the Attendees. (Yes, I capitalized User-friendly because when talking of that attribute, it is a proper noun when referring to EventsX.) We are glad that we purchased a year's worth of EventsX to facilitate conferences. Thank you EventsX for the countless support. "
"EventsX platform was so easy to use The platform was so easy to use. It was laid out in an understandable way, it was easy to navigate from one speaker/session to another, and it was great to have a chat feature in every room. I was in few events hosted in EventsX platform during the COVID-19 lockdown. I think online events platform like EventsX is the future of the events Industry. Looking forward to the next conference using this software! "
"Excellent👌🏻Best customer support team… Excellent👌🏻Best customer support team ever. "
"Excellent! Excellent! Thank you very much EvenetsX! "
"Great software and easy to use Great software and easy to use. Thank you EventsX. "
"EvenetsX is one of the best platforms for large events with nearly 20000 people I've attended loads of events through lockdown, and EventsX is definitely the best platform. Once you've registered the first time it remembers you, so you can join really quickly the next time even if it's a different organiser, it allows various 'stages' and 'booths' which you can swap between very easily, also I've been on Gaming events with nearly 20000 people with no audio/visual problems or lagging!, it has the usual 'chat box' and features but overall just seems more efficient.....would recommend both to those joining events and those who want to host them. Artificial intelligence features in the EventsX platform I did not see any other events platform. It next level. When your login to the EventsX event you getting futuristic feeling the way application design. "
"EventsX Incredible tool for creating online events" We ran a number of successful events with EventsX that took us a matter of few hours to set up and bring in over 6,000 attendees. Pros: This platform handles almost everything you need to run a successful online event from landing pages to speaker's dashboards to managing affiliate commissions. Artificial intelligence features in the platform amazing. Great stuff EvenetsX Team and they're very helpful. Cons: Still the platform in the BETA stage. Can be tricky to edit certain elements due to it being an all-in-one platform. I am cannot wait EventsX full product available in Summer 2021. I am really looking forward to it. Thank you for the cool experience. I really like this Events software. Well done EventsX. "
"Thank you EventsX !! I Love the EventsX platform. I like the option to have multiple live break out session to choose from. Chat capability was great and had zero issues. I had smooth video in every room and didn't experience any glitches. Just a great experience overall. Artificial intelligence features in the platform really cool. Still EventsX in the BETA stage. When the full version available EventsX is going to change the online events industry for sure. "